Meatloaf is such a great, old-school dish that screams 'comfort food'! I've always enjoyed it, even when I was a kid. The best part of meatloaf, to me, is the leftovers! It actually holds up really well to a day or two in the refrigerator and is super-versatile when reheating. We can take a look at the best ways to reheat meatloaf in this article.
Best Ways to Reheat Meatloaf
It's common practice for lots of people to think quick and easy when it comes to reheating food. Enter, the microwave.
But we're looking at a few different ways to reheat meatloaf in this article. Also, I care to share my opinion on the BEST way to reheat meatloaf, and the microwave isn't top of the list!
There is something to be said for a bit of patience, and the results are usually worth it for a few minutes longer than the microwave method.
So lets get to it!
---
Additional Reading: How to Reheat Biscuits for Perfect Results
---
How to Reheat Meatloaf on the Stove-top
A really quick and versatile way to reheat many foods is on your stove-top. Believe it or not, people did this many decades ago all the time, before the era of microwaves. The best part of this method is that it allows you to fine tune your flavors, like adding extra sauce or herbs during frying.
Total Time Required: less than 10 minutes
The items required:
meatloaf sliced 1 inch thick
good non-stick fry pan with a lid
sauce, broth or water
plastic or wooden flipper
This is my go-to when reheating lots of things, from Chinese food to roasted potatoes. I prefer the control you get when pan fry on the stove top.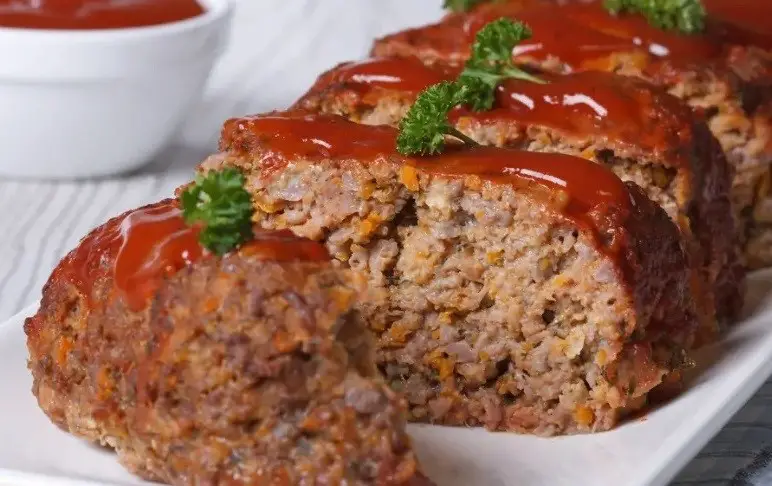 Starting out, you can choose if you want to add a bit of different flavor as a sauce to your meatloaf. I would usually put a tablespoon of my favorite BBQ sauce per slice of meatloaf in the pan, along with just a splash of water.
If you choose to not add sauce when reheating your meatloaf, add 2 tablespoons of water or beef broth to the pan instead.
The addition of water/sauces does 2 things. First, it keeps the meatloaf from drying out and getting tough. Secondly, it actually speeds up the reheating of the meatloaf considerably. The moisture permeates the meatloaf, cutting down the time it takes to bring to temperature.
Heat up fry pan over medium heat.

Add 1 tbsp BBQ or pasta sauce on each slice of meatloaf.

Cook in fry pan covered, checking after 2 minutes.

Flip slices over and cook for additional 2 minutes.
You will want to fry the meatloaf slices on medium heat, lid on. Don't walk away and leave it, once your pan is up to temperature, you will only need about 2 minutes per side. So keep an eye, and flip your meatloaf slices once it is done.
---
Additional Reading: How To Quickly Thicken Pasta Sauce 6 Simple Ways
---
How to Reheat Meatloaf in the Oven or Toaster Oven
This way takes a quite a bit longer than the pan fry method, but if you're not pressed for time its a great option. Also, cooking anything in the oven allows for time to prep other things that will be going with your meal like salads, veggies, rice, potatoes and the like.
Total Time Required: 15-30 minutes
Items required:
meatloaf whole or sliced
casserole dish or dutch oven w/ lid
sauce, broth or water
temperature probe
When choosing your cookware, you can use an oven-safe baking dish like a dutch oven that comes with a lid. If you don't have one, a simple shallow glass casserole dish works using aluminum foil to cover.
Preheat oven to 275 degrees.

Place meatloaf in cookware, adding 2 tbsp of broth or water.

Cover with lid or aluminum foil, place on center rack of oven.

Reheat for 20-25 minutes (solid loaf) or 10-15 minutes for slices.

Use temperature probe to check for minimum 160 degrees.
I really prefer using this way when reheating a full meatloaf from the freezer (after thawing). I find it turns out really well, almost as good as when it was first cooked! Just make sure to add the right amount of sauce or water/broth to prevent your meatloaf from drying out.
---
Additional Reading: How to Reheat Chicken Pot Pie my 4 Best Ways
---
Reheating Meatloaf in an Air Fryer
Okay, so I'm really starting to love and use my air fryer more and more. Super versatile, and able to tackle a lot more fun foods than I had ever expected; such as meatloaf!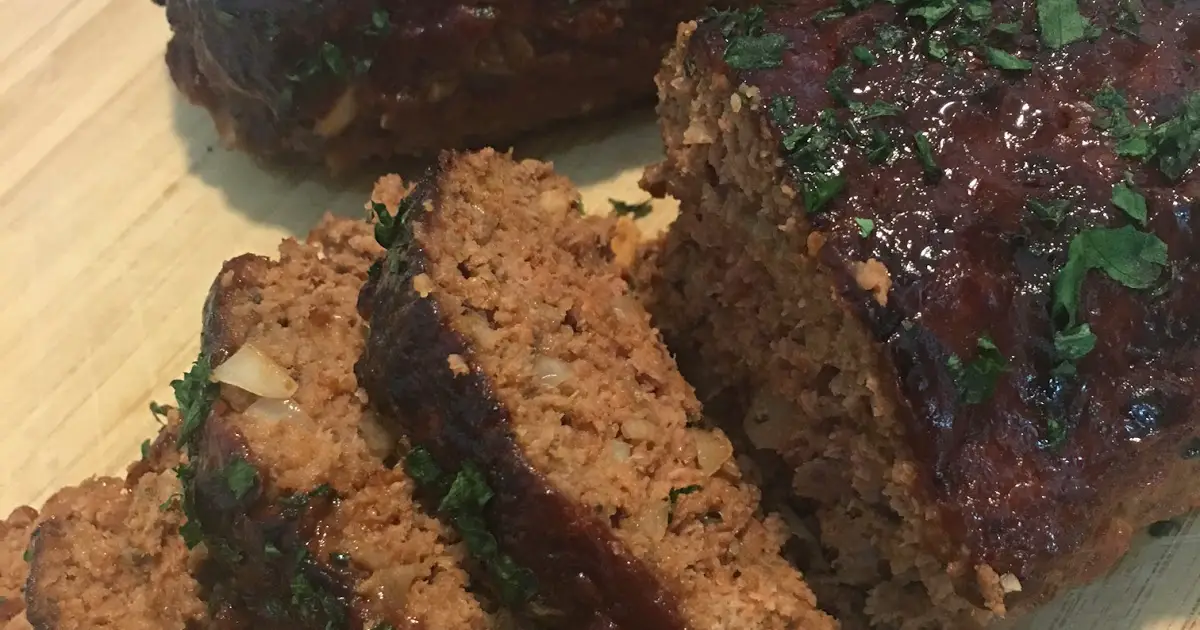 I had an idea to try it when writing this article. Turned out great, and so here it is, my air fryer method of reheating meatloaf.
Total Time Required: less than 30 minutes
Items required:
meatloaf whole or sliced
air fryer
parchment paper
BBQ/pasta sauce (optional)
vegetable/olive oil (optional)
I reheated a loaf that was about 2 1/2 lbs. It was fully thawed from the freezer. All air fryers differ, and some will cook faster or slower than what mine did. Follow, but use your judgement and make sure to reheat your meatloaf to a minimum temperature of 160 degrees.
Preheat air fryer to 375 degrees

Line basket of air fryer with parchement paper

Coat top of meatloaf with your choice of sauce (optional)

Coat meatloaf with olive oil or vegetable oil – this is what I did

Reheat in air fryer for 20 minutes. Check with temperature probe for minimum 160 degrees internal temperature.

Slice and serve!
I was pretty happy with how this turned out, was really easy. Only thing I will try next time is with a BBQ sauce instead of just olive oil. I think either will be delicious, its hard not to be!
Reheating Meatloaf in a Microwave
And last we have the good old microwave method. It's my least favorite method, but in reality a LOT of people prefer it simply for speed and simplicity.
The microwave is perhaps the best method when you really only need to reheat just a couple slices, rather than a whole meatloaf.
Total Time Required: 3-5 minutes
Items required:
meatloaf sliced 1 inch thick
paper towel
BBQ or pasta sauce (optional)
microwave safe plate
Place your slices of meatloaf onto a plate in a single layer.

Coat your slices on one side with your choice of sauce.

If sauced, cover your slices with a sheet of paper towel. If unsauced, wet your paper towel first, then cover the slices.
This will help to keep your meatloaf moist! Very important!

Heat your slices on medium setting for 1 minute. Check to see if heated thru. You should hear sizzling once the meatloaf is up to temperature. Use a temperature probe if desired, or just touch.

If needed, microwave for another 20 seconds at a time until ready.
I hope this helped, enjoy your leftovers and maybe take a look at some of our simple recipes before you go.
ENJOY!